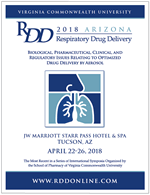 Respiratory Drug Delivery (RDD®) 2018, organized by Virginia Commonwealth University and RDD Online, will be held at the JW Marriott Starr Pass Resort & Spa, Tucson, Arizona, April 22-26, 2018.
RDD 2018 offers attendees the unique opportunity to participate in the best international conference of its kind, featuring in-depth presentation and discussion of pioneering respiratory drug delivery science in tandem with expanded opportunities for networking.
The meeting format will include:
In-depth discussions of the developing issues surrounding combination product design and cross-over technologies that connect with the diverse expertise of our delegates from the drug delivery industry.
Scientific Poster Session and Technology Exhibition during which device and equipment designers and component suppliers will present their latest developments alongside scientific posters from the aerosol community.
Posters on the Podium, where innovative poster abstracts are presented as short podium presentations during a special session in the main auditorium.
Charles G. Thiel Award will be awarded to a scientist who has pioneered significant developments in the area of Respiratory Drug Delivery.
RDD VCU Peter R. Byron Graduate Student Award will be awarded to a student who presents the highest quality research at the conference.
RDD 2018 peer-reviewed proceedings are published and made available electronically to all registrants free-of-charge.
Numerous catered opportunities to meet new scientists and business professionals.
We look forward to welcoming you to RDD 2018 in April. For more information, contact RDD Online®.